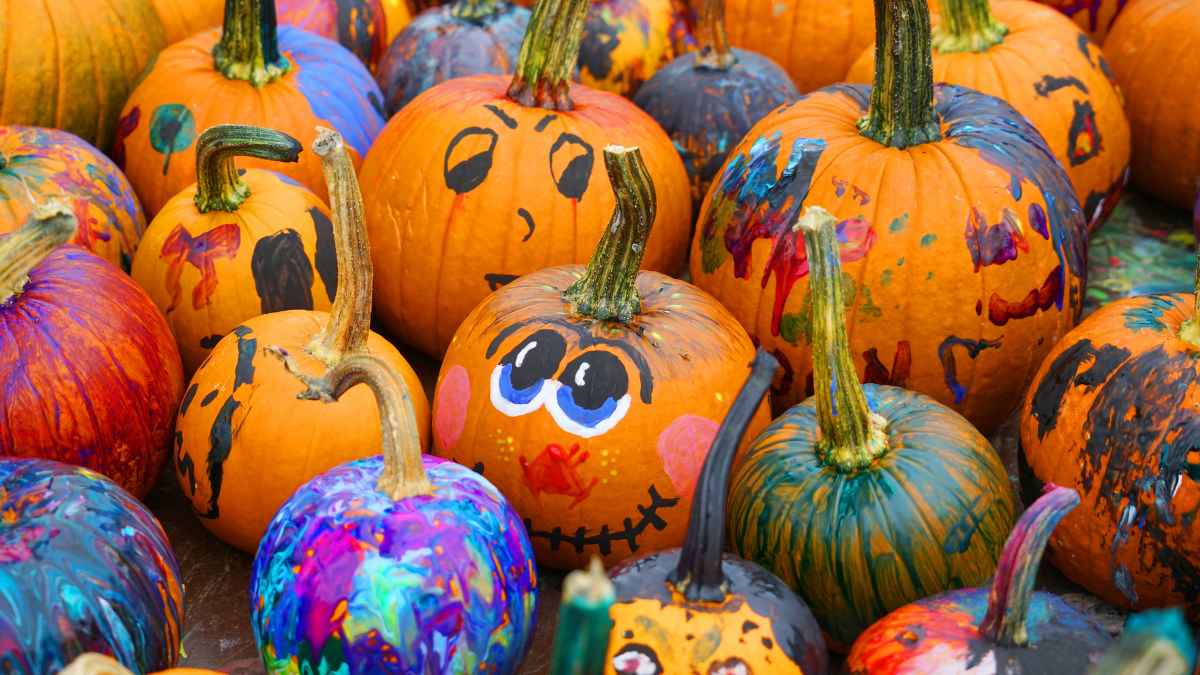 Get Crafty this Fall: Painted Pumpkins Bring Colorful Delights to Your Seasonal Decor!
Are you ready to elevate your fall decorating game? Embrace the artistry of pumpkin painting and discover a world of creative possibilities that go beyond traditional carving. Painting pumpkins is not only a fantastic way to extend their lifespan but also a safer option for younger kids. Plus, it's an activity that the whole family can enjoy without the worry of sharp tools. So, get ready to embark on a pumpkin-painting adventure that will add a splash of color and charm to your autumn landscape!
Picking the Perfect Pumpkin Canvas
Before you dive into the colorful world of pumpkin painting, you'll want to start with the right canvas. When choosing your pumpkins, opt for those with a smooth and even surface. Say goodbye to the worries of bruises, scratches, and lumps. If petite pumpkins are more your style, our adorable Munchkins are perfect for little hands.
Prepping Your Pumpkin for the Artistry Ahead
Before you can transform your pumpkin into a work of art, a little preparation is in order. Begin by giving your pumpkin a gentle clean using a damp cloth or paper towel. Avoid abrasive scrubbers that could harm the pumpkin's skin. Dry your pumpkin thoroughly, paying special attention to the stem and blossom areas. A dry stem and blossom prevent premature rotting and maintain the pumpkin's freshness.
Let Your Imagination Run Wild!
The beauty of pumpkin painting lies in its limitless creative potential. If you have young artists in the family, stencils, markers, and stickers offer an easy way to create eye-catching designs. If you're feeling more adventurous, reach for acrylic paint—it dries quickly, allowing you to layer colors and details in no time. And don't forget about your trusty painting tools: inexpensive brushes, cotton swabs, sponges, and cotton balls are your best friends on this artistic journey.
Crafting Tips and Tricks for a Flawless Finish
As you unleash your inner Picasso on your pumpkin, remember to protect your workspace. Lay down a cheap vinyl tablecloth or some newspapers to guard against paint spills and splatters. To take your pumpkin to the next level, consider adding extra flair with embellishments like glitter, sequins, pom-poms, and rhinestones. Give your pumpkin a personality with googly eyes or create an otherworldly glow with glow-in-the-dark paint, ensuring your creation shines even after the sun sets.
For an extra dose of inspiration, explore our Pinterest boards packed with creative ideas that will set your artistic spirit soaring!
Join Us for Fall Fun at the Farm!
We can't wait to welcome you to our farm for a season of Fall festivities. Whether you're picking pumpkins, enjoying hayrides, or exploring our corn maze, there's something for everyone to enjoy. And when it comes to pumpkin painting, we're here to provide you with all the pumpkins you need for charming and vibrant decor!